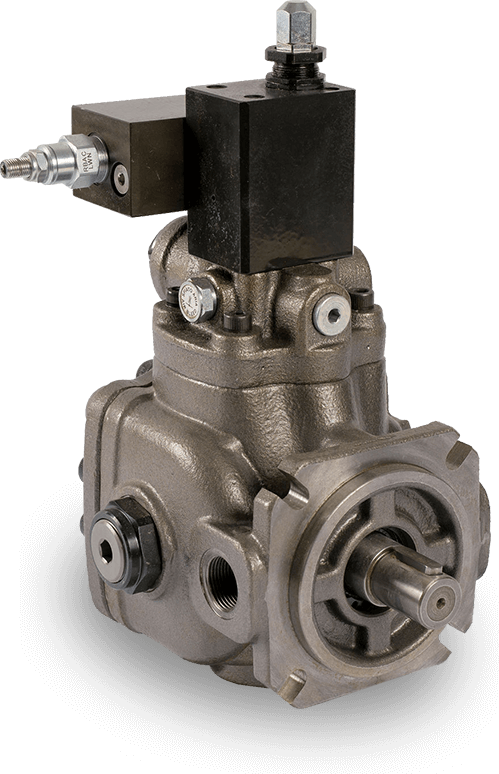 Le pompe PHPK sono pompe a palette a cilindrata variabile ad alta pressione di esercizio con dispositivo di regolazione della pressione di tipo idraulico a potenza costante che consentono di adeguare istantaneamente la portata erogata secondo le richieste del circuito.
Variable displacement vane pumps are volumetric pumps, therefore, they deliver a maximum flow equivalent to its displacement for the speed of rotation. The operating pressure is due to the pressure losses that the fluid encounters during its journey in the plant.
Quando la pressione in mandata (sull'impianto) eguaglia la pressione di taratura della pompa la portata erogata si adegua ai valori richiesti dall'impianto; raggiunto questo valore, la pompa riduce la sua portata fino ad azzerarsi, mantenendo la pressione pressoché costante. In condizioni di portata richiesta nulla, la pompa eroga solo olio per compensare gli eventuali trafilamenti e pilotaggi. Inoltre, il dispositivo a potenza costante permette lo sfruttamento ottimale della potenza assorbita dalla pompa.
Il principio di funzionamento si basa sul mantenimento pressoché costante del prodotto portata x pressione (q x p), in modo che all'aumentare della pressione corrisponda una diminuzione della portata e viceversa, secondo una curva caratteristica di tipo iperbolico.